We've come a long way from our dorm room floor.
Our humble beginning
Lounging Around Since 94'/95'
From a humble dorm room in West Michigan, Big Joe started with the idea that a bean bag could be so awesome it's absurd. Today, we offer everything from classic shapes filled with beans to sophisticated silhouettes filled with foam that never goes flat, plus pool floats and fun kid-sized products too!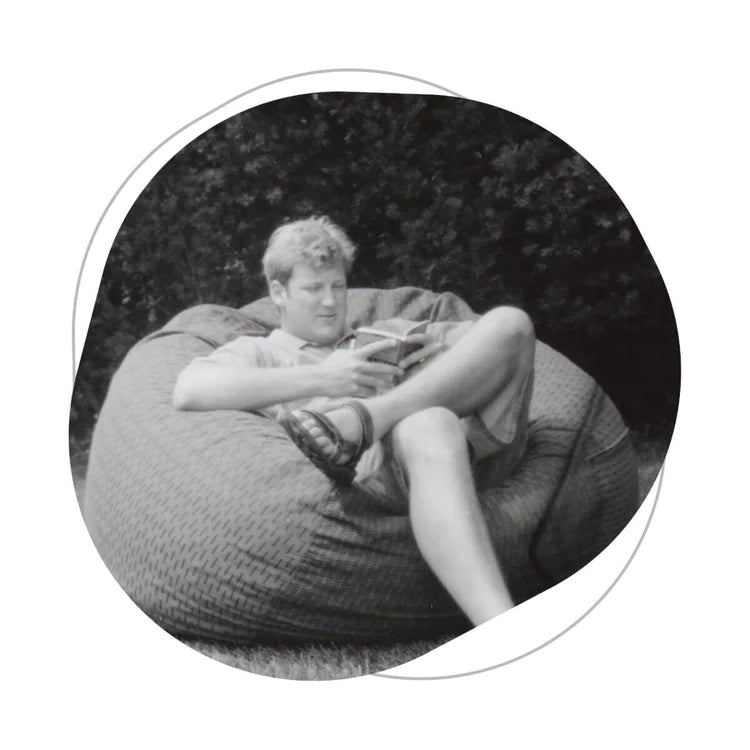 The Fuf Chair
Tired of sitting on flat, uncomfortable bean bags, our founders Matt and Chip decided to shred an old foam mattress and stuff it in their old chairs. (Note to our old R.A: sorry.) At that moment the Fuf was born. Their floor mates couldn't get enough of this new foam-filled bean bag they'd created on a whim. Today, this incredibly soft and cozy dorm room staple is a household favorite.
Over the Years
Here are just a few things we are proud of since the day Big Joe was born.
Started Poppin' Beans

Although Big Joe revolutionized the traditional bean bag by filling it with foam, we thought there was a lot more we could do for our bean-filled brethren. Our bean technology hit the market in 2008 with uniquely shaped bean bags that provide structure, support and a whole lotta fun!

World's Largest Bean Bag (sort-of)

We created a massive bean bag for Grand Rapids' Art Prize 2011. It stood over 20 feet high! The only issue? We didn't realize it wasn't certified properly. But don't fret, we'd get that fixed.

Opened Second Manufacturing Facility

Customers couldn't get enough of Big Joe, so we opened our second manufacturing facility in Lewisburg, TN.

First Pool Float

Given the nature of our beans, Big Joe pool floats were a natural extension to our indoor product line. Our innovative pool float don't need air, dry quickly and are ready for a day on the water whenever you are!

Molded Core Invented

Big Joe's molded core technology builds on our goal of designing innovative, fun and comfortable products. This patent pending technology is lightweight, yet extremely durable and is suitable for both indoor and outdoor use.

First Bean Bag In Space

Yep, we did that. Carried by weather balloons, we sent a 2.27 pound bean bag into space. It was coordinated by satellites and digital devices were attached to capture its journey.

10 Million Bean Bags

A huge milestone was reached in 2016 when, thanks to customers just like you, Big Joe announced 10,000,000 bean bags sold!

Opened Third Manufacturing Facility

With the goal of getting absurdly awesome products in your hands even faster, Big Joe opened its third manufacturing facility in Tremonton, UT.

World's Largest Bean Bag, for real!

Lesson learned! We made the World's Largest Bean Bag right here in Grand Rapids, Michigan. This time officially certified by Guinness World Records. It was made of over 1,100 smaller bean bags and more than 42-million fluffy beans. In total, the bean bag weighed more than 4,000 pounds!

25 Million Bean Bags and Counting

Thanks to our awesome customers, we've grown from a tiny West Michigan dorm room to creating over 25 million bean bags! And we're just getting started...
Something for everyone
Where We Are Now
Today, we've grown to become one of world's largest bean bag companies. We're proud to have three state-of-the-art plants with more than 275 employees across the US and over 100 patents and trademarks. While we're no longer using a wood chipper to shred foam, we're still committed to making products you'll love that are stylish, durable, fun and most importantly, absurdly awesome.